Architecture & Building quality
At H-I-M Villenbau, we embrace high quality construction. Our new buildings feature a sophisticated architectural style, allowing the living areas to be flooded by sunlight and creating space to live and feel comfortable. We value our long-standing cooperation with experienced architects, specialist planners and craftsmen from the Munich region and offer you room to express your personality: Our team of specialists and interior designers supports you in all decisions, large and small, which turn the planned apartment into your individual home.
A modern interpretation of a timeless classic: Our Bauhaus villas are defined by their cubist, linear style and a functional design. Very large living areas with purposefully positioned sun terraces and loggias, as well as floor-to-ceiling glazing that fluidly connects the interior with the open outdoor space, characterize the design of this new building.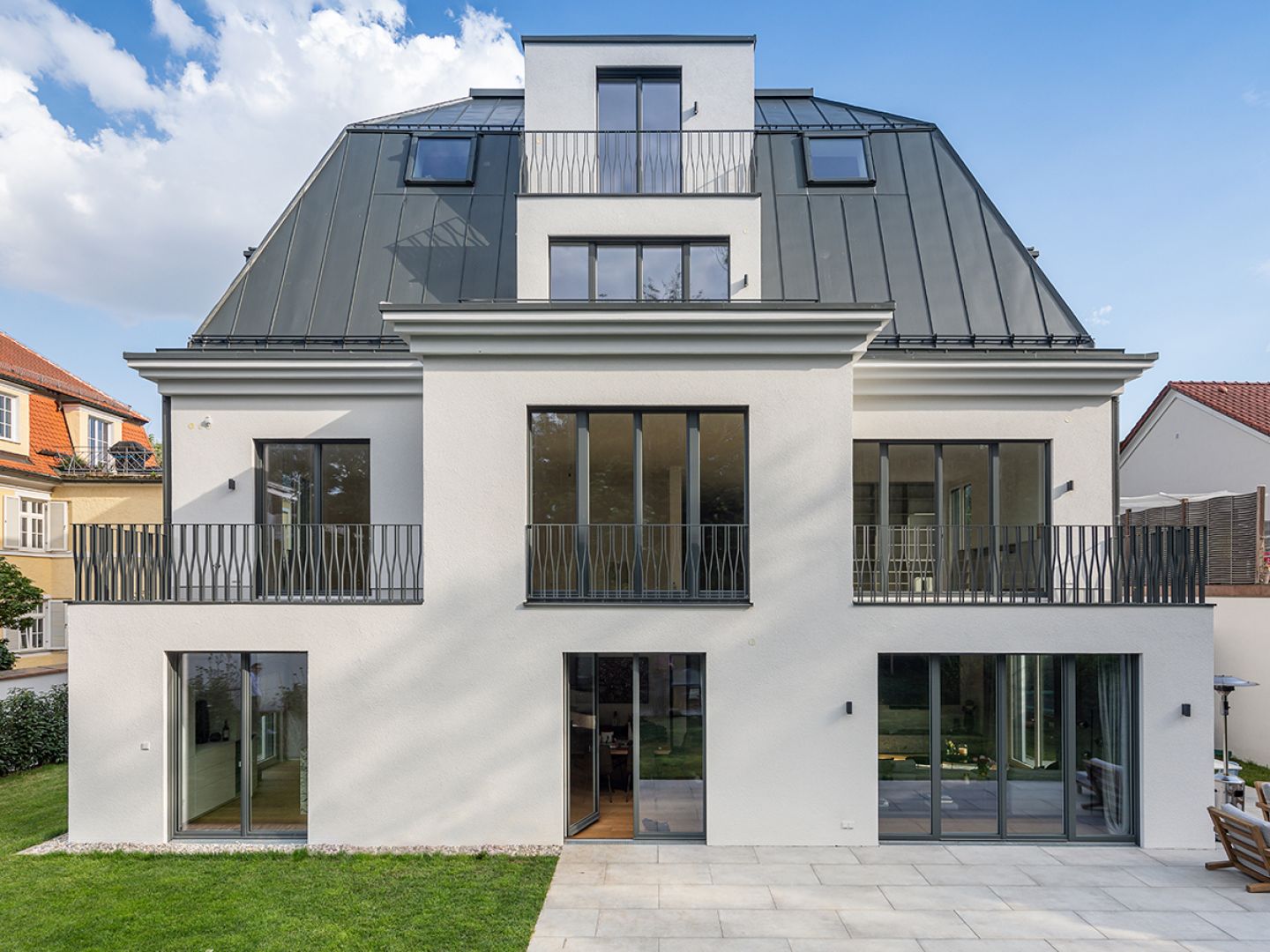 Classic villa architecture based on the timeless elegant style of the turn of the century. These villas fit particularly well into historically developed villa districts. They combine the classic elegance of traditional villa buildings with the home comforts and technical innovations of today's architecture. In keeping with the original tradition of villa culture, they can be realized as an elegant townhouse or as a prestigious estate in a prime suburban location.
The recognition value of a property by H-I-M Villenbau is based on a clear language of form as well as very concrete style elements, which we implement out of conviction where possible in every new building.
Plenty of room to feel good: Large-format glazing with threshold-free transitions are among the hallmarks of our architecture.
Our newly built properties are characterized by spacious interiors. Extra-large living areas with open floor plans of approx. 100 m² to 350 m² and room heights of up to 3 m or more create a flowing sense of space.
Our newly-built residential properties feature elaborately designed room-high glazing, flooding the living areas with light and sun. The loggias and terrace areas are realised using threshold-free sliding door systems. The entrée of the residence, too, can be designed using extensive glazing, thus accentuating the staircase area to the penthouse and providing additional natural light.
The superfluous elements of a property include steps and thresholds that can become an obstacle, especially with increasing age. Properties by H-I-M Villenbau are designed treshold-free wherever possible. In addition, all our multifamily buildings are equipped with a modern lift so that the residents can move around the house unimpeded even in the case of temporary illness or at an old age.
The high-quality residential properties of H-I-M Villenbau are characterized by clear lines and a modern, sophisticated design. Spacious living areas, extra-high rooms with custom-made glazing and matching door and window elements in threshold-free design are among the hallmarks of our architecture.
The special features of the H-I-M architecture comprise generously sized sun terraces and loggias. We position our "sun rooms" individually according to sunshine and with maximum privacy in mind, creating recreational areas that offer enough space to plant a small private garden or to linger in the open air even in larger company.
Functional and forward-looking building equipment
Luxury is comfort that does not attract attention. For this reason, our understanding of great design includes the hidden integration of functional technologies that improve the efficiency and longevity of the property and facilitate everyday life. From energy-efficient combined heat and power plant to elaborately designed plants for the improvement of water quality, breathing air and noise protection, to future-oriented technologies, such as connections for e-filling stations in all underground garages. On request, we can also realise complex BUS systems, allowing to comfortably control all functions of the house technology by the push of a button.
A newly built apartment by H-I-M Villenbau is not a rigid corset, but a flexible habitat that can evolve with the resident and meet the requirements of different life phases. We adapt the floor plans of each apartment to the individual expectations of our customers and install flexibly positionable partition walls, which can be removed or inserted after the purchase at any time and without much effort.
When buying a newly-built apartment, penthouse or single villa by H-I-M Villenbau you can decide how your property will be equipped – starting from the choice of wood, tiles or stones for the flooring, to the format and design of the interior doors, up to the equipment of the wellness areas. Please find below an overview of some of the possibilities you have got with us.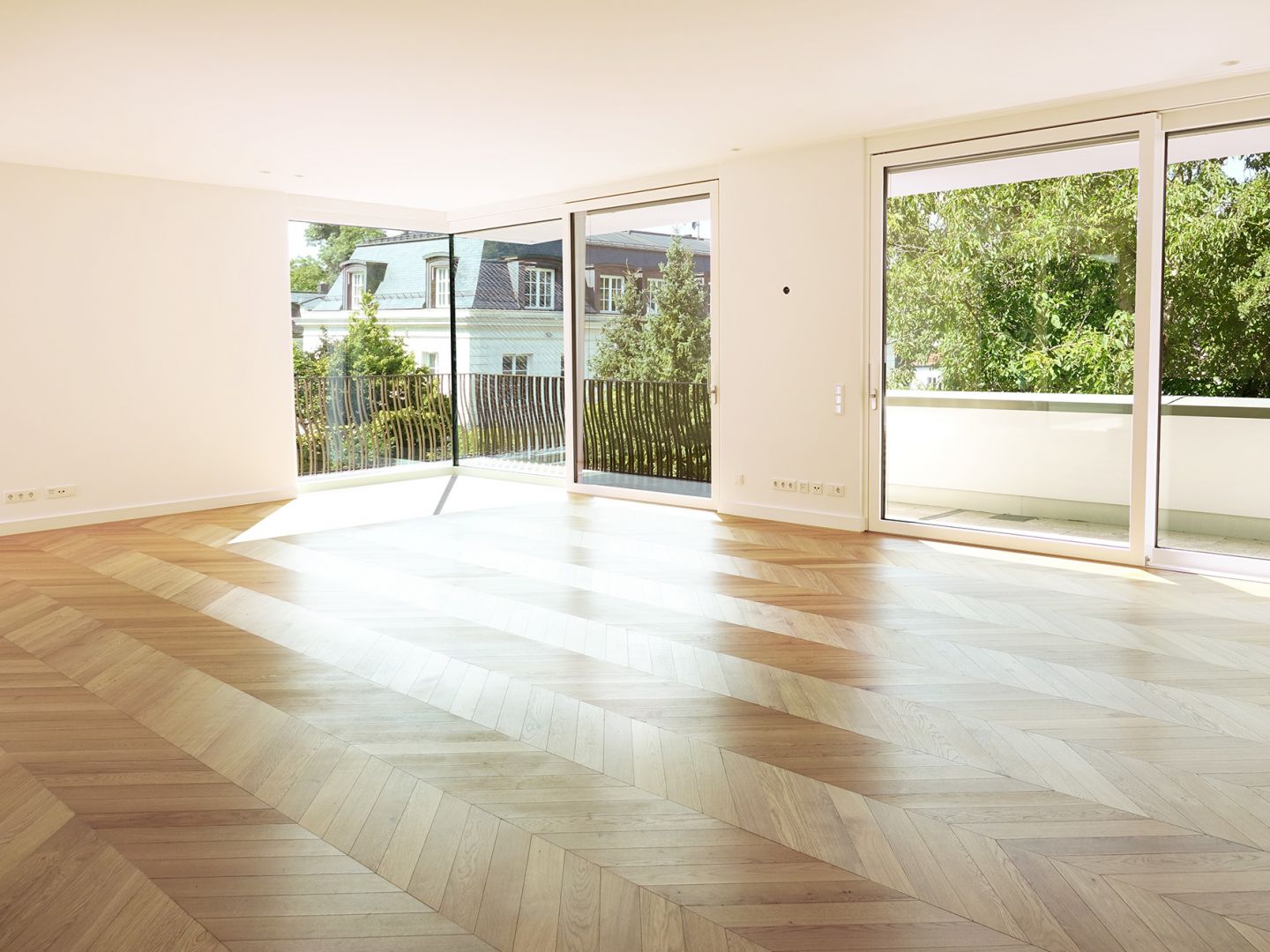 All living rooms are equipped with a parquet floor made of solid wood, preferably in oak or walnut. White or gray oiled oak plant flooring is currently especially popular. In kitchen, bathrooms and hallways you can alternatively choose a fine stone floor or ceramic tiling. All parquet floors are laid out by a parquet master from the surrounding Munich region, and the tiles and floors, too, are from a regional manufactory.
At H-I-M Villenbau, we have our own construction department, advising you with the equipment details and supporting you personally throughout the entire construction phase. In addition, you have the opportunity to visit high-quality exhibition venues, where you can personally inspect a very wide range of materials and products.
The interior doors of our properties, as well, are manufactured by a master carpenter from the region of Munich. The doors are usually equipped with concealed hinges, handles made of stainless steel and are painted matt white. There are, of course, many ways to design interior doors and we are happy to install other variants on special request. For example, the doors can be realized room-high, as a sliding door in double-wing design, with glass cut-outs or glass top-lights.
The apartment entrance doors fulfill extensive requirements, such as burglary, sound and heat protection.
Wellness areas and sanitary equipment
New properties by H-I-M Villenbau include spacious wellness facilities, which can be planned with a masterbedroom and dressing room as a separate private area. Also, our appartments usually feature an additional guest bathroom with shower and WC. The sanitary areas are usually equipped with white washstands offering comfortable storage space and wall-mounted wash-down WCs from well-known manufacturers, such as Duravit or Villeroy & Boch. The fittings are available in high-quality design creations, e.g. by Dornbracht. Of course, all bathrooms can also be modified individually. Beyond the equipment offered by us, we can implement within the realms of the technically possible a wide range of special wishes, including a steam bath, a sauna or a combination of shower and steam bath.
All shower areas in newly-built properties by H-I-M Villenbau are designed without thresholds. The threshold-free design is not just a modern style element. First and foremost, it serves long-term accessibility, making sure that the residents have free access to all areas of their residential property even in times of ill health or old age.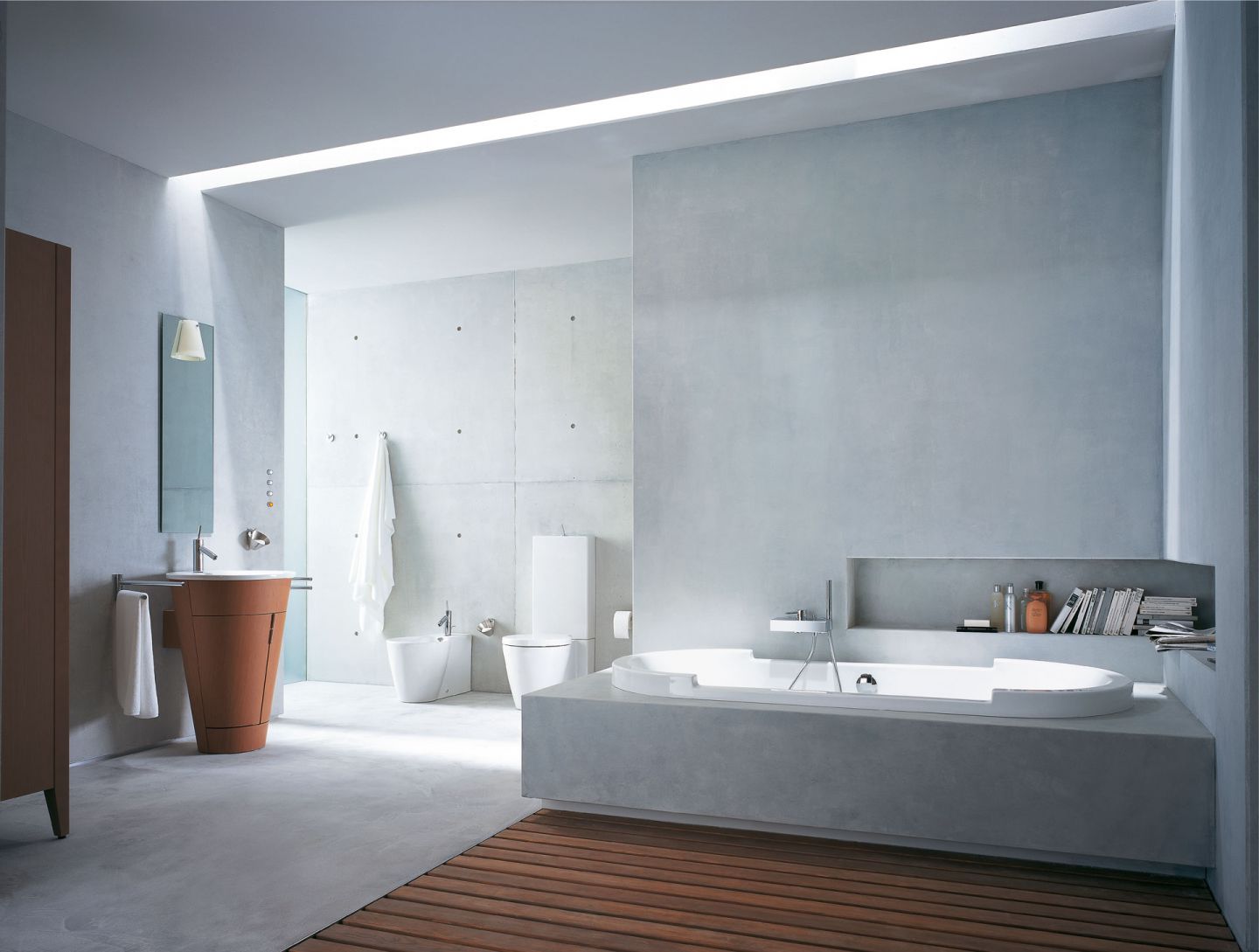 Secret helpers: Home comfort can be maximized with intelligent home technology (Pictured: Lighting design by Occhio)
Newly-built real estate by H-I-M Villenbau features a functional house technology, which increases the longevity of the property and maximises the comfort of living. The technical equipment includes, for example, an energy-efficient combined heat and power plant that produces heat for the heating and hot water system. The electricity generated as a by-product can be used to operate the building services and does not have to be paid for separately. Also installed is an individually controlled underfloor heating system, an exterior electrically adjustable sunshade, and an intelligent ventilation control system to improve breathing air quality and prevent moisture buildup.
We create space for personality. Right from the start, we offer you many possibilities to individually design your new residential property according to your ideas and wishes. Within the scope of technical possibilities, we also implement complex changes for you on special request.
Freiraum für Persönlichkeit
In addition to the equipment we standardly build into all our properties, you have the possibility to arrange individual wishes and changes. The equipment details being regularly realized on special request, include, for example, open fireplaces, which can also be provided with energy-saving firebricks.
If you buy your new apartment, penthouse or villa at an early stage of the building process, we can design a multifunctional lighting system and tailor it to your individual requirements. Using a long-life, energy-saving LED technology, we can create accents and light moods being controlled either manually or automatically.
Furthermore, it is possible to install fixtures, such as a sauna in the wellness bath, 'rain shower' showers, which can be used as a steam bath in double function or separate fitness and guest areas. The latter are particularly suitable for apartments with additional living space in the basement.
Of course, we also implement complex BUS systems on request, which can be used to control the entire home automation system at home or whilst travelling by simply pressing a button. Thus, it is possible to switch on the floor heating system already at the airport, to programme an intelligent time control for frequently used devices or to couple the blind system with a wind and rain monitor – just to name a few examples.
»Architecture does not end at the facade, but permeates every room.«
Ralph Heim, H-I-M Villenbau GmbH München
To fully adapt your new property to your individual requirements and wishes, we personally support you throughout the entire building process. Our experienced construction team closely works with you to develop the ideal ground plan and equipment details, including your special wishes. In the scope of technical feasability, we aim at realizing as many of your wishes as possible, weaving your modifications into the ongoing construction process and ensuring timely completion.
The following always applies: The sooner you buy an apartment, penthouse or villa by H-I-M Villenbau, the more room you have to bring in your own ideas. If you are buying before the start of the building process, for example, we can fully integrate your wishes into the planning process right from the start. If you buy the new property just before completion, it is possible that certain decisions (such as the question whether the building includes a chimney shaft or not) have already been made. This is one of the reasons why most of our residential properties often are already sold before the start of construction.